"Even if there is a small surgery there is no small anesthesia."

Name: Christine Ufashingabire, AD.A, BNH, MCC & TN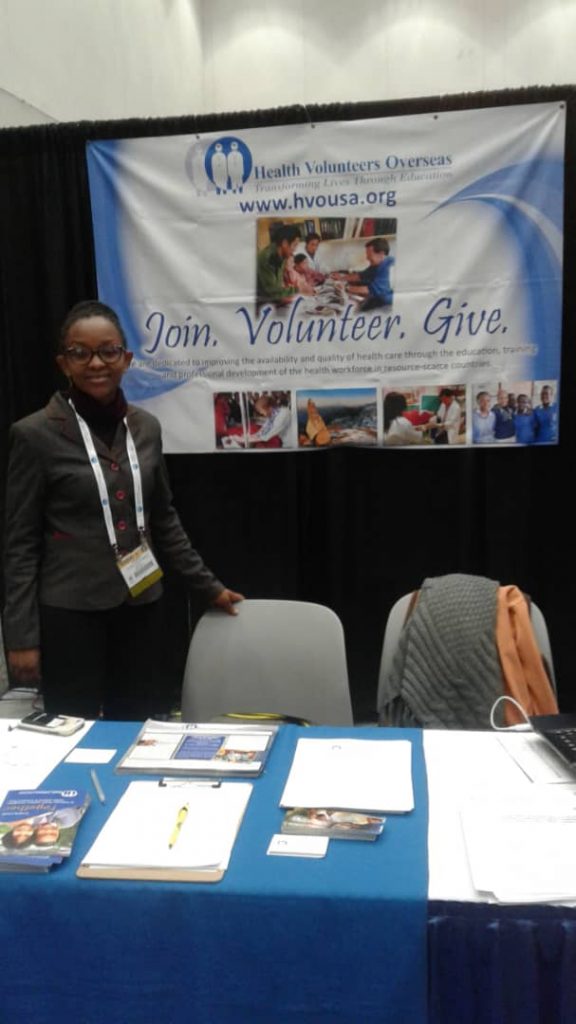 Nursing education: Advanced Diploma in Anaesthesia, Kigali Health Institute, Rwanda (2001), Bachelor Degree in nursing Honors, University of Kwazulu-Natal, South-Africa (2004), Masters in Critical Care and Trauma Nursing, Kigali Health Institute, Rwanda (2013)
Number of years in nursing: 17 years
Current title: Head of Anaesthesia Department and Lecturer, School of Health Sciences, College of Medicine and Health Sciences, University of Rwanda.
Country: Rwanda

Why did you decide to become a nurse?

I decided to be a nurse because I like nursing profession. I am passionate about providing support for people who are suffering. When persons are sick, they need physical, moral and emotional assistance; therefore, I like to provide such kind of care.

How did you become a nurse anesthetist?
I started nursing sciences in high school with the former educational system in Rwanda, then after, I specialized in anesthesia in a three-year program at former Kigali Health Institute. My nursing career continued to bachelor's in nursing and later to master's degree in critical care and trauma nursing.

Tell me more about the nurse anesthetist program you are director of?

Our nursing anaesthesia program started in 1996. During that time it admitted nurses from high school. It was a program of 3 years and I was awarded an "Advanced diploma in Anaesthesia". In 2009 the department started a bridging program from advanced diploma to bachelor degree in anaesthesia for upgrading their level, it is a program of 18 months .
The government phased out the nursing program that started from high school in 2004. Consequently, the Department had to review the program since there was no longer nurses to admit in the program. We phased out the advanced diploma program in 2013, and we reviewed and adapted it to the Bachelor Degree program of 4 years starting from year one to year four. In the current program, we basically teach nursing courses during the first 2 years to equip students with basic nursing skills since we admit candidates with fundamental sciences. In the last two years they get intensive anesthesia courses.
Our [nurse anaesthesia] graduates are now working in the district and teaching hospitals in the country. Now we have 548 graduates. They are responsible for the majority of anesthesia care provided in Rwanda.
How many students are in the class?

The number of students varies between 25 and 35 depending on each year admissions. We usually admit the small number because it's easy to follow them especially in clinical teaching where we do not want to overcrowd the operating theaters as there are many other students from medicine and other nursing programs

How many years were you a nurse before you became involved in academia?

At the completion of my advanced diploma in anesthesia, I worked as a nurse anesthetist for two years at Kigali University teaching hospital and from there I was recruited as an academic staff at the university.

What is the most challenging part of being a nurse in your opinion?

The most challenging part is to always be in the hospital without free time .When you compare our profession to the majority of others, they work from Monday through Friday and they have the weekend to be free, and relax. But for nurses, we work long hours, as well as irregular schedules with overnight shifts, holidays, and sometimes when we have little kids they suffer from our absence. In addition, there is emotional stress of losing a patient even if you know that is in the end stage of life.
What is something in nursing, healthcare,and/or global health you are very passionate about?

Well, I am really keen on Nursing/Medical education…empowering human resource through training health professionals is one of the building blocks of a well-functioning health system. Therefore, when I teach students, I feel like I am contributing to the development and sustainability of our health services. These students will be the leaders or implementors of our health policies in the future.

Have you experienced "brain drain" with your students in Rwanda?

We face brain drain of our graduates because there are some countries in Africa with insufficient number or without anesthesia providers, so they go there and they get well paid.

Where are the standards for your students derived from?

The standards for our students come from the curriculum we have. During the curriculum design, we first of all focus on country needs. In addition, we consult other anaesthesia schools worldwide, for instance nurse anaesthesia programs from USA, and we work together making the final document.
Where do you see the future of your program? For your students?

When we compare where we came from and the progress we have made so far, we believe that the future of our program will be bright. We have a partnership with Health Volunteer Overseas (HVO) which provides teaching support worldwide to enhance the existing academic staff. We hope in few coming years, our students should also upgrade to the level of masters degree in nurse anaesthesia program. Graduates of our programme have knowledge, skills and attitudes needed for safe anaesthesia care nationally and globally,

"For us, by little we have, we serve" —Christine Ufashingabire